MeUndies | Head of Technology
2014 - 2019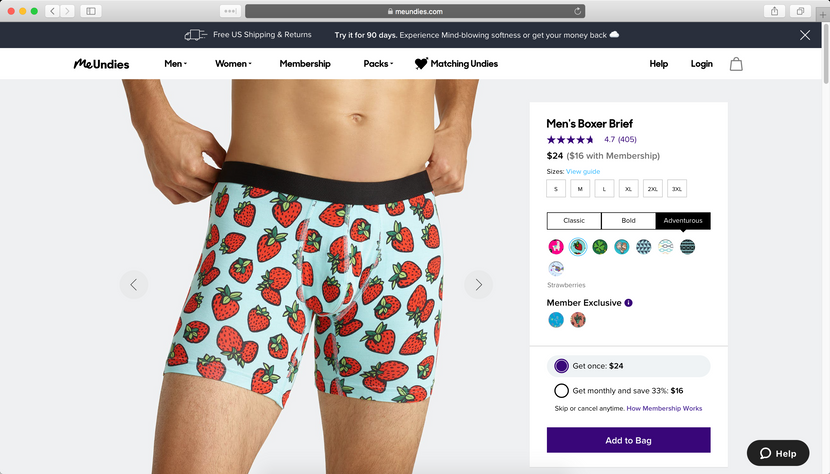 Outline
Intro
I joined MeUndies as it's first engineer. It was early enough that I had the opportunity to play an important role in building up the team and the culture that has allowed us to grow from a scrappy 5 person team to the 7th fastest growing retail brand in the US, according to Inc, with over 130 employees and over 10 million pairs sold.
In my final role as Director of Engineering and Digital Product/Head of Technology, I lead our Product Management, UX, UI and Engineering departments - a team of 15 brilliant product managers, user experience researchers, user interface designers and engineers. While each department is/was focused on elevating their respective domains, we came together in cross functional agile squads to deliver innovative features to improve our customer's experience and ultimately support our company's growth. From elevating our ecommerce and membership experiences for our customers to building and improving internal tools and infrastructure for our team we are responsible for the entire undies operation. We were completely overhauling the underwear shopping experience in a beautiful digitally native format, and it all started with using tech to solve our business' problems.
Departments
Product Management (PM)

We ensure that we are focusing on the most impactful problems/solutions and ensure it gets done on time.

User Experience Research (UX)

We are the user's advocate. We do research to understand our user's behaviors to help inform the design strategy of our digital products.

User Interface Design (UI)

We take the recommendations from UX and Product MGMT and design a beautiful prototype to hand off to engineers.

Engineering (ENG)
Scope
Fulfillment

Warehouse Management + Shipping

Store Front

Full Ecommerce Experience

Marketing

Features/Integrations to enable scalable/profitable growth

Physical Product

Product creation and Inventory Management + forecasting.

Customer Experience

Feature/Tool to enable a 40 person CX team to provide best-in-class support.

Membership Retention

A full suite subscription service with feature to support membership acquisition and retention.
Process / Squad Model
4 Squads to allowed simultaneous work-streams against our scope.
What is a squad?
A squad is a small cross-functional self-organized team with usually less than 8 people. They have end-to-end responsibilities and they work together towards their long-term mission.
Why Squads?
Autonomy

Autonomy makes us faster by letting decisions happen locally instead of through managers and committees.

Mastery

Focusing allows us to dig deeper and develop mastery in one area.

Purpose & Ownership

Being responsible for a particular goal motivates us to build better stuff!

Prioritization

Splitting tasks into different lanes allows our team to impact multiple parts of the business.
What Squads?
Core Site
Membership
Administration
Infrastructure
Notable Features
Find us: